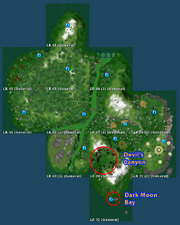 Proceedure
Edit
If you are still alive, walk along the shoreline toward the south/east. If you were sent back to the
Resurrection Circle
, it's best to avoid
Devil's Canyon
and walk along it's eastern border to get back around to
Dark Moon Bay
. Once you explore the docks, the quest is complete, but you can also wander out to the
Shipwreck
for some crystals if you'd like.
Flavor Text
Edit
"Tyrah: Ah... you found the shipwreck. I combined my seed crystals together without thinking and created shoals right under my ship... so that's where its staying..."
"Tyrah: Every scientist needs a place to experiment. The sunspire is my latest creation, climb up to the top and let me know how my experiments are faring."
Access quest 10: Climb to the top of the Sun Spire