Basic Information
Edit
| Color | Image | Rarity† | Exchange Rate | Collector Location‡ | Exchange Type |
| --- | --- | --- | --- | --- | --- |
| Blue | | <1% | L$2 for 1 | Next to Tyrah's Workshop (map) | All crystals exchanged for one sum each time the collector is used. |
| Green | | ~1% | L$1 for 1 | Next to Tyrah's Workshop (map) | All crystals exchanged for one sum each time the collector is used. |
| Orange | | ~25% | L$5 for 50 | Inside Portal Workshop (map) | 50 crystals exchanged each time the collector is used. |
| Yellow | | ~30% | L$2 for 50 | Inside Portal Workshop (map) | 50 crystals exchanged each time the collector is used. |
| Red | | ~40% | L$1 for 50 | Inside Portal Workshop (map) | 50 crystals exchanged each time the collector is used. |
†Percentages are estimates based on a small sample.
Collecting Crystals
Edit
To collect crystals, find them around the island and walk over them.
Crystals appear somewhat randomly throughout almost the entire island. More specifically, invisible crystal "rezzers" or generators are placed throughout the island and will generate a finite number of crystals. If the crystals are collected, they will regenerate in a short time, randomly placed near the invisible rezzer.
Some crystals will be placed by the crystal rezzers where they cannot be reached. For example, if a crystal is placed under a tree that is close to the ground, inside a tree stump or rock, or otherwise placed in an area where an avatar will not fit. In that case, you will not be able to collect that crystal.
It can be helpful to use a movement HUD or a dash HUD that can be acquired elsewhere in Second Life or from the Marketplace. These HUDs can project your avatar forward with such force that sometimes you can manage to squeeze into (or through) small spaces. Still, this trick will not always work; some crystals just cannot be reached.
The use of a movement or speed enhancer HUD is against the rules and i will post the rules now.
☀Rules for Linden Realms gameplay :
* Flying is not permitted in Linden Realms.
* Use of 'bots' or other automated software (internal or external) to enhance game play mechanics is not permitted.
* Use of any object, devices, HUDs, scripting, etc to enhance speed, movement and award collection rates is not permitted.
If your account is discovered operating or performing any of the above, Linden Lab may suspend or terminate access to Linden Realms, your Second Life account, and any L$ acquired via illicit gameplay, may be assessed from the accounts involved.
Just because a crystal is in a rock or a tree does not mean it was placed there for you to cheat to get,the crystals are rezzed randomly.
Uses for crystals
Edit
Using Crystals in Quests
Edit
Some quests require you to collect and use crystals. Your HUD should show how many of each color you have collected. If you are collecting for a quest, your HUD will automatically update when you have enough. If you recieve a quest to collect crystals and you already have the required amount, your HUD will update with the next step immediately.
Trading Crystals for Linden Dollars
Edit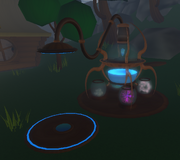 You can collect crystals and exchange them for Linden Dollars. For exchange rates and crystal collector locations, see the table at the top of this page.